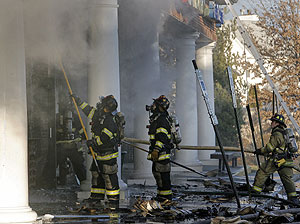 Well, sadly, this is the first blog post that is also a tribute in honor of a "what-once-was-popular" establishment in South Jersey.
As you may have heard (if you live locally, obviously), Short Hills Deli burned down on January 4, 2008. Some way to start the New Year, huh?
Apparently, according to the
Philadelphia Inquirer
, it is believed that a still-lit cigarette butt was tossed into a dumpster out back and quickly caught flame, aided by strong winds that day. Ironic that even though smoking is outlawed in restaurants in New Jersey, one careless smoker managed to put a whole diner up in flames. Thanks smoker-person for your thoughtfulness. On the bright side, at least nobody was hurt in the afternoon emergency.
At any rate, Short Hills Deli on Evesham Road WAS a popular meeting place to dine on breakfast all day, or large sandwiches, or a slew of different dinners. In fact, the menus were crammed in with so many choices that you really had to start thinking about what you might order before you even arrived at the restaurant. Unless you're like me and you get the same rotation of meals at a diner... pancakes, French toast, or omelettes. Mmmmm, breakfast. They were a major player in the Jewish holiday business, serving cold cut trays by the billions (or so it seemed).
I'm curious now to see where all the regulars will go for lunch now that this local institution is no more. The closest similar destinations would probably be Ponzio's in Cherry Hill, Marlton Diner in Marlton, the
Kibitz Room
in Cherry Hill, or Country Diner in Voorhees.
There may be plans to re-build and re-open Short Hills Deli, but until then, we're stuck with a charred pile of rubble. Come back soon Short Hills!